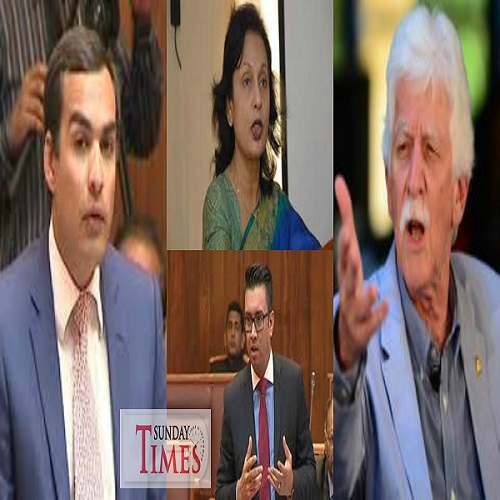 La Speaker : «You come with a motion against the chair again »
Maya Hanoomanjee n'a pas peur d'une nouvelle motion de blâme contre elle au Parlement. C'est elle-même qui l'a dit à l'Assemblée Nationale ce matin après avoir rappelé à l'ordre plusieurs fois les membres de l'opposition qui protestaient sur le fait qu'elle accorde plus d'attention aux membres du gouvernement qu'à, ceux de l'opposition. Maya Hanoomanjee a alors lancé que si les membres de l'opposition n'étaient pas d'accord avec la façon de faire de la Speaker, ils pouvaient alors venir de l'avant avec une nouvelle motion de blâme contre elle.  Ceci après que le député du PMSD, Adrien Duval n'avait pas reçu le droit de poser une dernière question supplémentaire.
Après des échanges houleuses, Shakeel Mohamed s'est permis de se lever pour conseiller «en tant qu'ami »  la Speaker.  «Do you need a break ? Go out and breathe ? », Maya Hanoomanjee n'a pas hésité une seconde pour l'expulser du Parlement pour le reste de la journée.
Pravind Jugnauth pique à vif le MMM
Répondant  à une question supplémentaire de Rajesh Bhagwan sur la  neutralité de la Mauritius Broadcasting Corporation dans le traitement de l'information, le Premier ministre  a sonné la révolte du côté du MMM quand il a dit que la MBC n'est pas responsable si le MMM n'a rassemblé qu'une centaine de personnes lors de son meeting du 1er mai dernier à Rose-Hill. Cette remarque a été suivie de plusieurs interruptions des députés du MMM dont Paul Bérenger qui scandait «Shame on you » en direction de la Speaker.  Maya Hanoomanjee a rétorqué, « shameful on you, honorable Bérenger ».