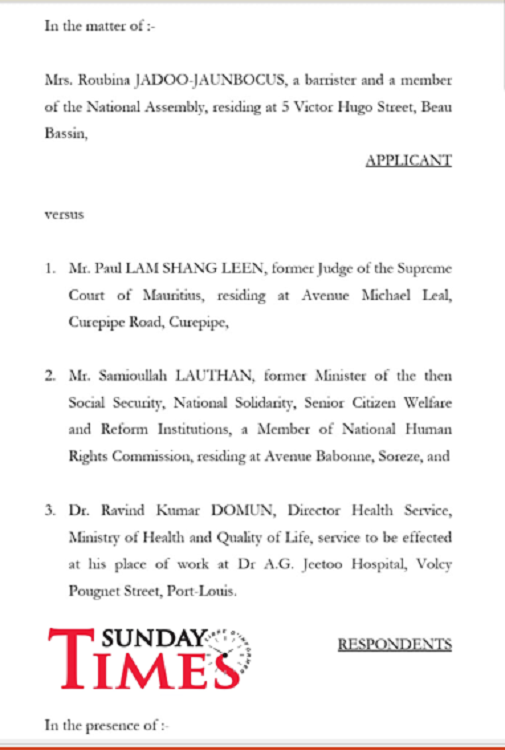 Roubina Jadoo-Jaunbocus, qui a récemment démissionné comme ministre de l'Égalité des genres,  a juré un affidavit un Cour suprême pour demander une 'judicial review' de la commission d'enquête sur la drogue présidée par Paul Lam Shang Leen. Elle réfute les 'findings' de la commission la concernant, notamment qu'elle a été en contact avec le caïd Veeren Peroomal, qu'elle a effectué des 'unsolicited visits' en prison, qu'elle a permis aux trafiquants de drogue de communiquer entre eux,  et qu'elle a  reçu Rs 50 0000 de Mme Cupidon, écrouée pour trafic d'héroïne, et a remis  cet argent au trafiquant Kamasho.
Pour elle, la Commission n'a pas observé la section 13 de la Commissions of Inquiry Act, vu qu'elle n'a pas été autorisée à contre-interroger les personnes qui ont déposé contre elle. La commission ne l'aurait pas confrontée aux documents qu'elle mentionne dans son Rapport, notamment une facture détaillée d'une carte SIM appartenant à Veeren Peroomal, ainsi qu'un relevé de comptes de Mme Marie Cupidion.
Pour l'ex-ministre, il est clair que la Commission  a agi contre les "rules of natural justice"  et "in breach of fairness".