Le Spartans Club a tenu sa compétition de body-building réservée aux membres du club au hall municipal de St François Xavier le vendredi 29 janvier 2021.
C'est dans une atmosphère conviviale et sportive que s'est déroulé le concours sous les regards attentifs des invités d'honneur Reza Uteem et Abdullah Hossen.
La palme dans la catégorie Men Physique est revenue à Fahim Hossenbaccus, l'argent revenant à Farzaad Tamane et le bronze à Waheed Soogun.
Les lauréats dans la catégorie Bodybuilding ont été Reza Imrith, prenant la première place, devant Irshaad Allykhan et Hydar Ramaully, 2e et 3e respectivement.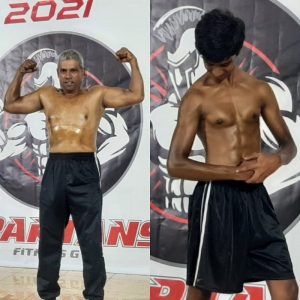 Notons aussi la participation d'Anas Nunkoo, 14 ans, 14 ans, le plus jeune athlète, adepte de culturisme, et le doyen Mahaboob Hossen, âgé lui de 63 ans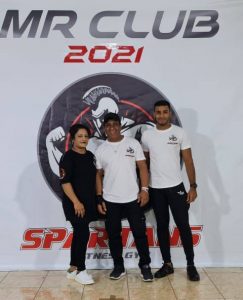 Pour la petite histoire, Spartans Club est situé dans un bâtiment à étage à la rue La Paix à Port Louis dont le gérant est Farad Goolfee, bien épaulé par sa femme Farzanah Goolfee. Au rez-de-chaussée, se trouve une boost shop dont le propriétaire est Hussain Goolfee qui vend des suppléments nutritifs,des vêtements et des équipements aux culturistes.
La mission de Spartans Club est de donner un boost à la santé et la qualité de la vie à travers le fitness et les facilités offertes par le gym.
Soulignons que pour l'évenement du concours, les sponsors principaux étaient La Pharmacie Renaissance,  située à la rue Desforges, et Nutritech Nutrition Mauritius. Les Boost Shop, Chotoye Rubberstamps, Naas Trading, Reshad Goolfee et Ideal Shopping Centre, ont elles aussi parrainé le concours.
Hors Texte
Why Compete?
Le 'personal trainer', Djavehd Chotoye, a tenu à donner les raisons pour lesquelles, un 'body-builder' se doit de participer aux concours de cette noble discipline sportive
One of the benefits of competing is improved progress. Bodybuilders who compete make better progress then those who do not. One reason is that regular competition forces you to cycle your training. Thus the body is constantly receiving new training stimulus and responds with new muscle growth.
Another reason that competitive bodybuilders make better progress is because they tend to make a great effort to learn as much as possible about the sport. With more knowledge comes better progress. Knowledge is power!
And there is nothing like competition to bring out the best in someone. A fifth place finish last year will motivate you to bust your butt to place higher this year. This constant effort to be the best will only lead to the top.
When choosing your first competition make sure it is far enough down the road that you have enough time to prepare. Deciding to enter a contest that is only a few weeks away is crazy. There is no way that you can get into top shape and have a good posing routine prepared in such a short period of time.