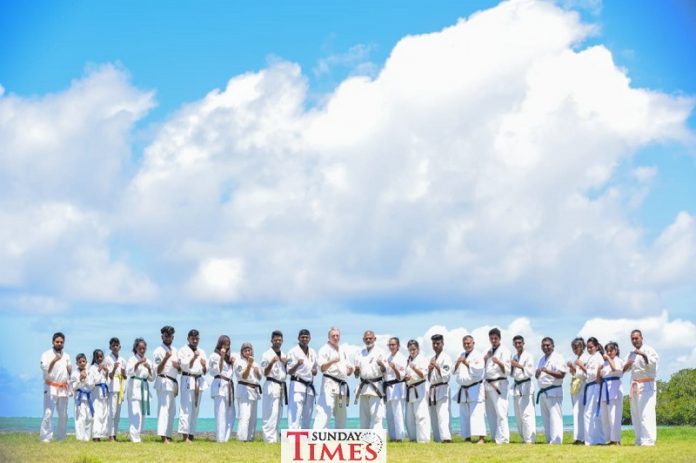 Maurice a eu l'honneur d'accueillir le Shihan David Pickthall du 9 au 12 janvier derniers. Vice-président de l'International Federation of Kyokushin Karate (IFKK), ce titulaire du 7e Dan a participé à plus d'une cinquantaine de compétitions de Karate dont 24 où il est sorti haut les mains en arrachant la tant convoitée première place.
Il était venu sur l'invitation du Country Representative of Mauritius de l'IFKK, Sensei Nazir Khan Hossen, qui est lui au quatrième Dan. Au programme, des séminaires de Karaté aux Mauriciens qui a vu la participation de quelques 80 amateurs locaux. Très satisfait du déroulement des séminaires, qui se sont tenus principalement au Petit Verger Multipurpose Hall et au centre sportif d'Helvétia, le Shihan David a eu l'honneur de voir 12 élèves progresser pour atteindre la ceinture noire.
Shihan David était en effet à sa deuxième visite à Maurice. D'octobre 1976 à ce jour, ce professeur de cet art martial est resté fidèle à son club, le Crawley Dojo où il entraine toujours. Les récompenses et reconnaissances internationales, Shihan David n'en manquent pas. Avec ses nombreuses victoires, il a été promu au 7e Dan en 2017 à un concours mondial en Roumanie.
Ce vétéran du Karaté a placé Maurice parmi les pays qui a un niveau élevé vis-à-vis cet art, de par son expérience. Il compte ainsi revenir pour de plus grandes sessions et pour initier davantage de jeunes au Karaté.