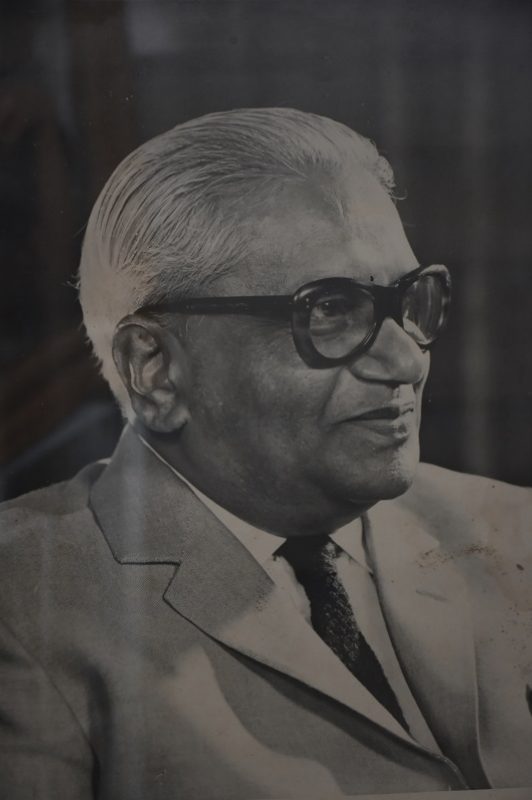 Chacha Ramgoolam (1900-1985)
35 years ago, Mauritius and the world lost Sir Seewoosagur Ramgoolam (SSR). I was 5 years old, and I remember very vividly that Sunday 15 December 1985. I was at my nani's place and suddenly the MaBC, which was a bit more respected back then, put out a flash news.  And suddenly that very sad Indian sitar music playing over and over…I recall seeing Sir Gaëtan Duval saying it repeatedly on TV, in tears literally, that "Chacha in mort… Chacha in mort".
Today, we send our special prayers and remembrance to honor the memory, life and dedication and leadership of SSR, first Prime Minister of Mauritius, former Governor-General and dedicated Doctor.
Together with other key leaders of his time, the 'father of the nation' has been one of the key figures of our nation building and socio-political history. Chacha, you left an immense legacy and managed to keep our country united and peaceful, often at difficult times. While you were not perfect, while some of your decisions can be questioned, you made a number of critical decisions for our country and believed in our country's progress and capacity. I do not think that you would have liked to hear that today, many of those efforts of nation building, peaceful co-existence and stability, are at risk.
The recent video made where allegedly Mr. P. Noel is supposedly "making a joke" by making fun and denigrating of Hindus and the Hindu community (of both India and Mauritius), Air India, pilots and crew staff, people with Hindu names, culture, traditional knowledge, cultural forms of expression and intrinsic value and sexual orientation of staff, is to a large extent grossly vulgar, denigrating, inappropriate and understandably hurtful to many. It's an affront to all Mauritians.
Even if this may have been done in a private setting among friends, over a sketch (or not), it does not excuse the fact that it was made public, it was shared, it was viewed. It's reached people. It touched the sensibility of people who proud themselves to be Hindus.
It begs serious questions as to whether some people, in our country and in this modern era, can still have such a closed mindedness about things, people, ethnicities, culture etc. Do we need to remind Mr. Noel that India is a leading force in the world? That Mauritius is built on the sweat and tears of many communities "confondue" ? That Mauritius has a dark history too ? That some people make day to day living with manufacturing and selling "la corde coco and pince" and "Dholl puri and farata" which are our national food to some extent and provided in all major hotels? That the same well established hotels are under lock down due to the COVID19 and will likely need to depend on Mauritian demand ?
At a time when out country needs stronger unity, solidarity and healing, the words of Mr. Noel could not have been so poorly chosen. So many innuendos, undertones and so many messages that simply cannot be accepted in our society today. Of course the problem is not Mr Noel himself, who may well be a nice man or father or husband or manager or a funny comedian — but we, as a nation, as a country, as ene Lepep ek ene nation, we ought to be smarter, and fight all kinds of racism and hate speech, all kinds of aggressive remarks. Last time it was a Hindu lady who was not allowed to go to work because she wanted to continue to wear her sindur / bindi. And today it's these kind of jokes? What is next, one wonders ?
Humour of course is important. Freedom of speech and expression are critical for our democracy. Taking things with a pinch of salt is warranted, sometimes. Some people can live with it, and some cannot. But we cannot and should not accept things when they really hurt people who have worked the land, worked the sugar cane fields, and worked for the country's emancipation and especially in a country where justice has had two weights and two measures, where inclusion and diversity is still a long way to go.
Let's face it: Mauritius has a dark history and often we do not want to talk about it – one of slavery and slave trade, one of colonizers, one of brutality and bullying against the weaker ones, one of deepened social injustice. We ought be better, and judge better how our words, thoughts and actions hurt others. Some feel "let it be…he didn't mean to harm anyone". Some say "Freedom of expression should prevail". Some say "Others communities also make racist jokes".  Whatever the perspective, let's aim to be better, to be more understanding and call a cat a cat. There is an opportunity for our country to really come together, we should not miss it.
Alteo did the right thing by suspending him —the stakes are too big to keep him as a staff. And we should do the same for anyone else who does the same type of "jokes". But we need to go further, and Alteo can help on this. Let me ask: What criteria are used for recruitment? What skills do you look for ? We know too many stories where someone with equal qualifications or more, won't get the job because he or she is not White/Franco mauricien. Or this or that community. How many Senior Managers are there of Hindu, Creole or Muslim community in such large companies ? We ought to know, to make those information fully available, show what kind of interview process are held —  so we can have a healthy debate and fix injustices, if there are.
We should also address similar questions to the government, public institutions, the police force and other places — and see to it that we have diversified approach to things and make diversity a reality. Discrimination based on ethnicity, how your name sounds, your religion, your orientation, political beliefs are just too real in Mauritius and CANNOT BE IGNORED anymore. Our diversity is our greatest strength, if we can use it smartly and wisely.
Having said all this, Mr. Noel did the right thing to apologize and give some further clarifications. We need to also be able to forgive and move on and focus on other equally important matters. But let me stress: This is not just a joke. It's much more than this and we need a truly healthy debate. One where En Force Maurice! is ready to engage on.
In the past, I have called out on a variety of politicians and their misbehaviours such as Mr. Soodhun, Chaumière, Roshi, SAJ, PKJ, NCR, Rutnah, and others who do things which do not inspire unity, confidence in our people and show aggressiveness to established principles.
Today, many people are hoping for a 'change'.
Often times, the Labour Party which SSR led, exemplifies elements of this change – although in reality it doesn't always trickle to everybody, neither at speed nor at scale. Often times the Labour Party has been stuck with poor decisions. As citizens become more involved in our national political process, something EnForce Maurice! is pushing for, let's hope that the methods of doing politics, the culture of our political system and importantly as well as all the possible corrupt officials and leaders come clean 🧼, "vine droite", arrête couyonne lepep, change quickly and for the better of our country. That we bring meritocracy, professionalism, ethics and integrity, higher standards and full respect for all communities and ethnicities in everything we do. That we push for transparent and honest leaders. That we also diversify the government, diversify public institutions, diversify the private sector. For sure, many people would not want to work with a manager who makes such remarks, would you?
Elements of the values and philosophy on which the original Labour Party was built on, challenging the status quo, need to come back. But even more important Lepep needs better.
We, citizens need to keep our elected officials —and private sector managers — accountable on every front.
We can do it.
Our thoughts and prayers are with Dr. Ramgoolam and his family and anyone who has known or interacted with SSR on his 120th birthday.
Long-live a new Mauritius.
Yuvan Aunuth Beejadhur
Leader
EnForce Maurice!