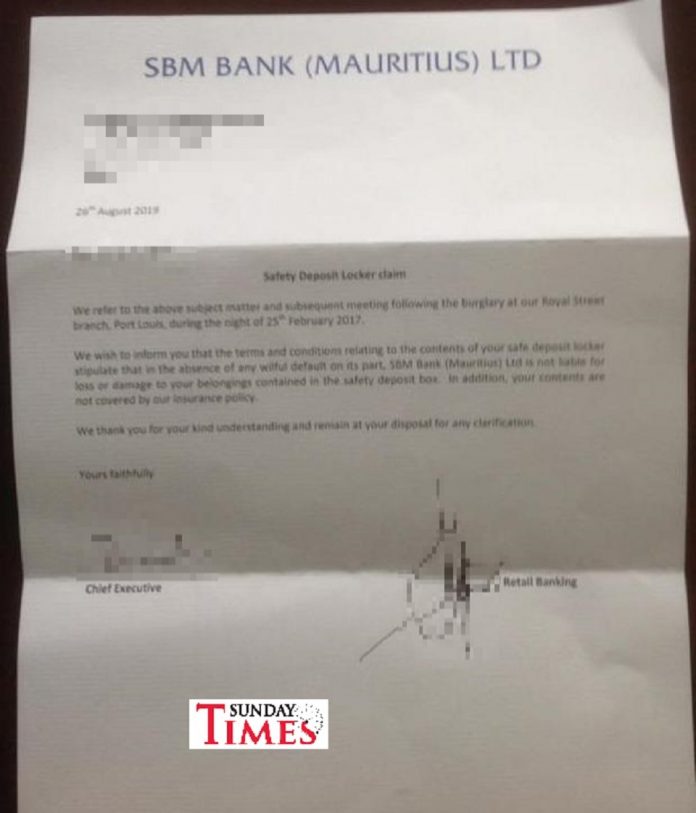 Des clients de la SBM n'en reviennent pas. Alors qu'ils sont nombreux d'avoir perdu leurs biens, dont de l'argent et des bijoux, dans le braquage survenu dans sa succursale de la Route Royale à Port-Louis le 25 février 2017, cette banque refuse d'endosser la responsabilité. La direction a ainsi fait savoir aux victimes qu'elles ne seront pas remboursées.
« We wish to inform you that the terms and conditions relating to the contents of your safe deposit locker stipulates that in the absence of any wilful default on its part, SBM Bank (Mauritius) Ltd is not liable for the damage of your belongings contained in the safety deposit box », lit-on dans la correspondance adressée à une des ces victimes le 26 août 2019. La lettre fait aussi ressortir que « your contents are not covered by our insurance policy ». À quoi sert donc cette assurance ? Est-ce que ce sont les clients qui doivent payer les pots cassés si la SBM ne peut assurer la sécurité de ses succursales ?
À noter qu'une somme de Rs 4 millions et des devises valant Rs 15 millions avaient été volées dans cette succursale de la SBM dans la nuit du 25 au 26 février 2017.