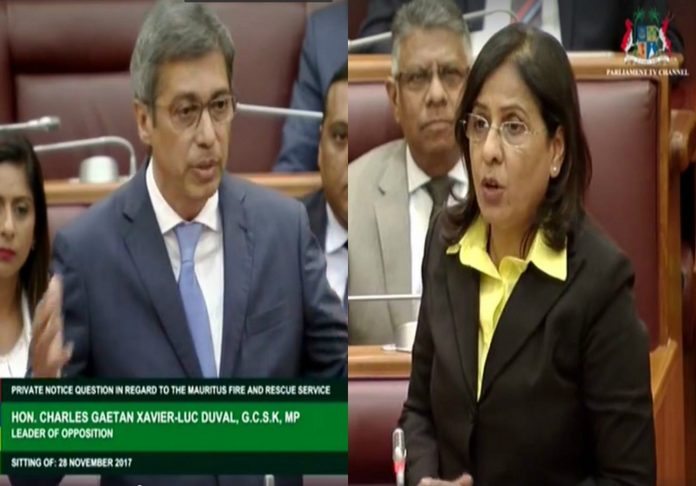 La semaine dernière pendant la Private Notice Question, Xavier Duval avait demandé à Fazilah Daureeawoo de confirmer si dans la construction des highrise buildings à Maurice le cladding, un materiau hautement inflammable et composé d'aluminium était utilisé.  Dans sa réponse, Fazilah Daureeawoo avait soutenu que ses officiers lui avait dit qu'un tel produit n'est pas utilisé à Maurice.
Aujourd'hui, Xavier Duval est arrivé avec un morceau d'aluminium cladding pour montrer que la ministre avait tort. « La ministre joue avec le feu ! Peut-elle nous confirmé si elle avait dit la semaine dernière que les bâtiments n'ont pas de cladding et que ses officiers avaient inspecté les bâtiments ? Si oui, peut-elle nous dire quels sont les tests effectués ? », demande Xavier Duval.
Fazilah Daureeawoo se presse alors de démentir les dires de Xavier Duval en insistant qu'elle n'avait pas fait mention de ce que dit le leader de l'opposition.  «You said no such cladding were used, what are the tests that were done ? », demande une nouvelle fois, le leader de l'opposition.  « If he was so concerned why did he reduce the budget of the fire fighting services when he was minister of Finance ? », dit Fazilah Daureeawoo, pour esquiver  la question.  Xavier Duval ne se laisse pas prendre au jeu et lance un appel à la ministre, «Will she consider, right after this session, to ban importation of cladding. There are tens and tens of buildings using this we have to look after all aspects… », dit Xavier Duval dans sa plaidoirie.
La vice-Premier ministre et ministre des Collectivités locales va alors lui répondre par ceci : «He has to come with constructive criticsms […] Give us time for god's sake » et ajoute ironiquement, « Everything is useless, we have done nothing, we are doing nothing. What has he done when he was in government in the last ten years ? ».
Auparavant, la ministre de tutelle avait affirmé que le budget alloué aux pompiers avait connu une hausse depuis le budget 2015-2016. « The budget allocated in 2015-2016 was, Rs 461 millions, in 2016-2017 Rs 533.6 millions and 2017-2018, Rs 570 millions », dit Fazilah Daureeawoo.